Hi, my name is Amanda (Mandy) and welcome to The Vine Scout website.  Based in the Barossa Valley, I've over 28 years experience in the Viticulture Industry working extensively throughout, but not limited to, the Barossa Valley, Eden Valley, Clare Valley, McLaren Vale and Riverland regions.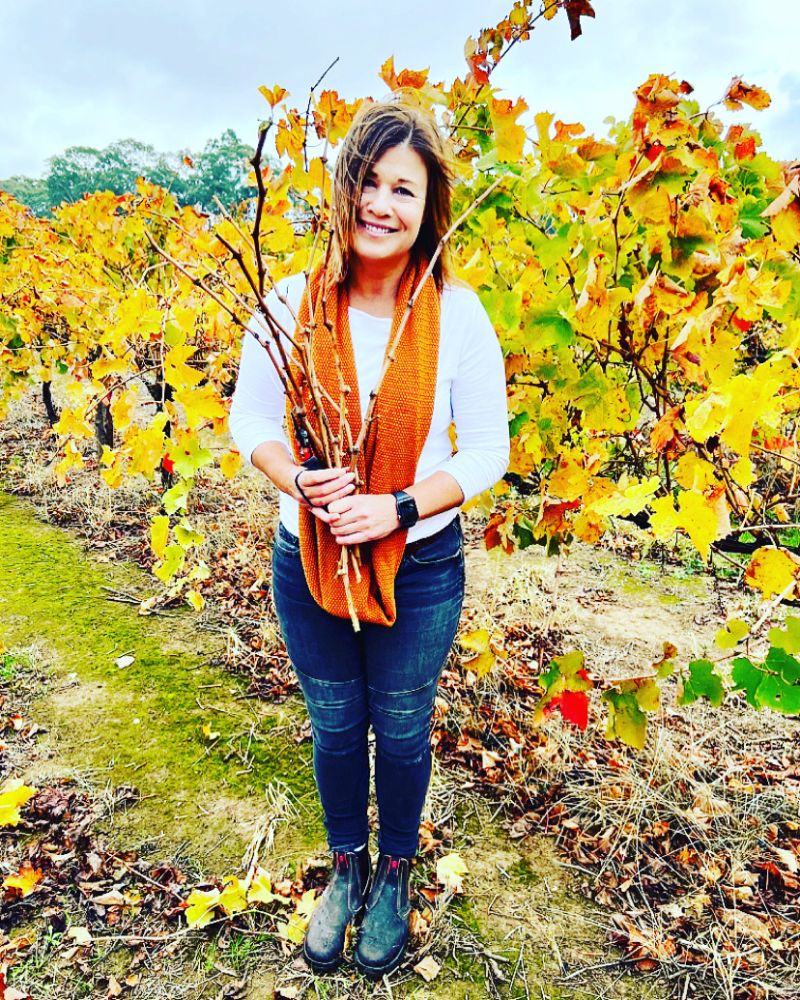 After ditching her Arts/Economics Degree, Amanda has stuck to her guns, working in the Wine Industry for 28 years as a qualified Viticulturist, with extensive experience and practical application in South Australia.
"I have been very fortunate to have been employed with high profile wine companies including Southcorp Wines, Thorn Clarke Wines, Yalumba and Treasury Wine Estates where I learnt a lot, combining the art of wine grape growing with science".
'Vine Scout' is a Viticulture Technical Support  Service based in the Barossa Valley that has been in operation for the past 6 years  assisting over 25 clients located in the Barossa Valley, Eden Valley, Clare Valley, McLaren Vale  and Riverland wine growing regions.
"There is special place on the eastern hill slopes of the Barossa Valley beside the North Para River, called 'Gumpara'  where  I,  along with my husband, Mark Mader,  own and manage a family 7th generation vineyard operation (25ha) and premium boutique wine label – Gumpara Wines ".
"In 2020 our wine group was tasked with the program of bringing all our Australian grape supply to Sustainable Winegrowing Australia Accreditation. Over the last 2 years, Mandy, Vine Scout, stepped on board as a support consultant to our growers in Barossa and Riverland and has achieved incredible results with 100% success rate. We cannot thank Mandy enough for her smarts and dedication to our cause. Job well done!"
Marc van Halderen – Grape Purchase Manager – HSFE and Yalumba.
"We used Vinescout for our bud dissections after the Oct 2021 hailstorm providing us with invaluable data prior to 2022 pruning season.  We found the report user friendly and extremely useful."
Dean Willoughby – Viticulturist – Rockford Wines
"Mandy plays a critical role in our Certified Organic vineyard.  Monitoring, advising and generally offering an opinion based on her extensive knowledge of the Barossa gained through many years working across its full breadth and depth of its sites and varieties.  Her knowledge is unparalleled in the Barossa in this role.  A unique individual offering incredible value."
Brett Hayes – Proprietor – Hayes Family Wines
"Vine scout offers various monitoring programs which suit our needs as a small vineyard and winery operator.  Amanda is extremely knowledgeable and easy to work with.  With her help, we are running our vineyard more efficiently using less water and agrochemicals with improved fruit quality."
Philip Liu – Director – Ubertas Wines
Mandy has great attention to detail when it comes to pest and disease monitoring. She is very thorough in her reporting and ensures that her customers are fully informed on what's happening in their vineyards. Mandy is dedicated to helping the grower achieve the best outcome and is always willing to offer assistance or advice if needed.
Brooke Howell – BAROSSA VINEYARD MANAGER/VITICULTURIST
Barons of Barossa were proud to award Amanda Mader Barossa Viticulturist of the Year in 2022, recognising how well known and respected among the region's grape grower community she is. Mandy works on numerous committees and freely shares her time and knowledge with all. Mandy works across the region, giving her an in-depth knowledge of the vineyards in both Barossa and Eden Valleys.  Mandy is also ''scouting' for us in The Barossa Cellar Vineyard, giving us peace of mind that nothing will be missed…
Louisa Rose – Grand Master, Barons of Barossa.
"I've used Vine Scout several times over the years especially around particular weather events, not only do you receive a detailed report, Mandy comments on other observations, issues and includes relevant suggestions.  Time and time again this service has proven to be reliable and great value for money."
Trent Reilly – Stirling Vineyard Services,